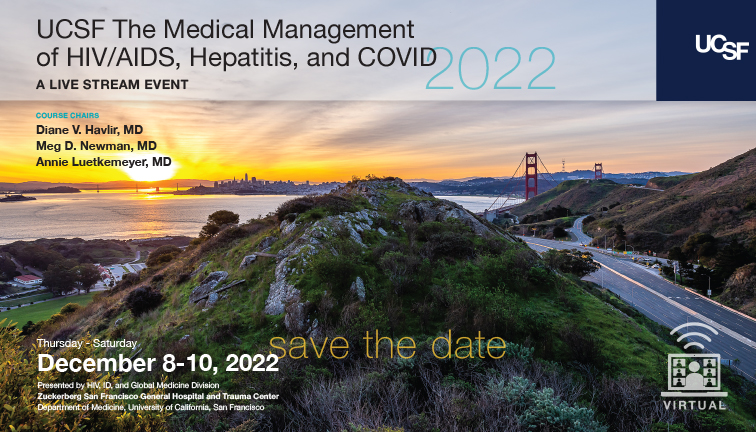 UCSF The Medical Management of HIV/AIDS, Hepatitis and COVID
A Live Streamed Event • December 8 - 10, 2022
Course #MDM23K02

Presented by HIV, ID, and Global Medicine Division
Zuckerberg San Francisco General Hospital and Trauma Center
Department of Medicine, University of California, San Francisco
Course Description
This course provides the active, intermediate-to-advanced clinician with a comprehensive review of the science of HIV, Hepatitis, and COVID, as well as an update on the application of HIV, Hepatitis, and COVID therapies. For ambitious new clinicians who want a challenge, we still offer our New Clinicians Track (NCT). This track provides five additional lectures that cover antiretroviral therapy (ART) 101, basic HIV pharmacology, ART resistance, IRIS, and opportunistic infections. All course lecturers are leading clinicians and teachers who are dedicated to teaching in their areas of expertise.
The COVID pandemic has further amplified existing health disparities as well as the vulnerability of our patients, making the need for up-to-date information about HIV/AIDS, Hepatitis, and COVID essential for providing high quality care. Current treatment options for acute COVID and understanding the science and management of Long COVID will be addressed.
All lectures will be cased-based with at least 2-4 ARS questions per session. Question and answer time as well as faculty panels are weaved into each conference day. The panels are designed with ARS questions so that you can privately test your individual knowledge against the experts throughout the conference. Questions that arise in the Chat  will be answered throughout each day by our faculty.
TARGET AUDIENCE
This course is designed for practicing internists, family practice physicians, infectious disease specialists, nurse practitioners, physician assistants, pharmacists, and will focus on the breadth of practical issues in the care of people living with HIV/AIDS, Hepatitis, and COVID.
Live Stream Meeting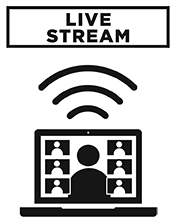 This course will be offered as a virtual conference. Login instructions along with the digital syllabus will be shared with the attendees a week before the meeting. Included in your registration fee is access to the Course Recordings within one week after the conference ends and your Course Evaluation is complete. These Course Recordings will remain accessible for an additional 60 days.
Objectives
An attendee completing this course will be able to improve skills and strategies to:
Diagnose, treat, and prevent important conditions in HIV medicine and HIV medicine subspecialties, for improved patient outcomes;
Apply in practice the latest treatment guidelines and recommendations for the prevention of HIV transmission and the appropriate use of PrEP;
Apply new recommendations for initiating and timely switching of antiretroviral combinations in appropriate patients;
Identify the new developments and apply treatment recommendations in HIV related dermatologic disease as well as reproductive medicine and addiction medicine;
Apply new recommendations for the treatment of HBV, cirrhosis, NASH and NAFLD.
Align practice patterns more with current evidence and guidelines for treating STI's, and HIV.
Apply in practice the latest treatment guidelines and recommendations for the prevention of COVID transmission
Apply new recommendations for appropriate treatment of acute COVID-19 and Long COVID